High strength plastic molded product "KISCOM"
High strength plastic molded product "KISCOM"
The CM team can design original material for metal replacements that meet required properties. In addition, with product shape suggestions through CAE analysis, the strength of the product which previously may be insufficient, can be increased by adding rib and wall thickness. As a result, we can meet strength requirements. We provide full technical support ranging from mold design to mass production.
Customer market
Housing equipment, automotive, industrial equipment, digital
Features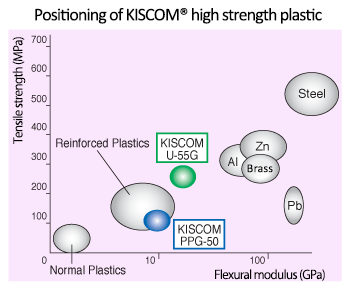 KISCOM high strength plastic molded products are a good replacement for materials such as iron, stainless, aluminum, and brass because the products have superior strength, rigidity, weather resistance, chemical resistance, and rust resistance. In addition, the products are lightweight and unpainted.
KISCOM®
Reference
Grade
U-55G
PPG-50
Iron
Aluminum alloy
Magnesium alloy
Brass
Mixing example
PA6+GF55%
PP+GF50%
S45C
ADC10
AZ91D
C2600
Condition
Bone dry
Humidity control*
Tensile strength


(MPa)

275
217
113
600
283
264
245
Stretch

(%)

2.4
3
—
22
3
6.5
30
Linear expansion coefficient


(mm/mm/℃)

8.0×10-6
—
17.0×10-6
11.7×10-6
21.8×10-6
26.0×10-6
21.0×10-6
Specific gravity(-)
1.63
1.63
1.35
7.8
2.71
1.81
8.4
Product lineup
| Grade | Mixing example | Features |
| --- | --- | --- |
| U-55G | PA6+GF55% | Die casting substitution / bright coloring |
| UH-55G | PA66+GF55% | Low water absorption |
| L-50G | PA12+GF50% | Calcium chloride resistance |
| U-55GHF | PA6+GF55% High flow type | For thin-walled molding |
| UFR-50G | PA6+GF50% Halogen-free flame retardant type | UL94-V0/5VA |
| ED-40G/EM-30G | PA6+GF30~40% Anti-electricity / conductivity type | Volume resistance / surface resistance |
| U-60GC | PA6+GF60% High rigidity type | High rigidity / deflection resistance |
| UFR66-50G | PA66+GF50% Halogen-free flame retardant type | UL94-VO |
| PP-50G | PP+GF50% | Water section / stainless substitution |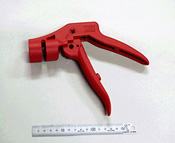 Molding examples:Parts of a scissor for gardening
Grade:KU-55G
Mixing example:PA6+GF55%)
*Replacement for aluminum cutting parts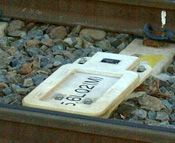 Molding examples:ATS ground element cover
Grade:PPG-50
Mixing example:PP+GF50%
*Replacement for epoxy resin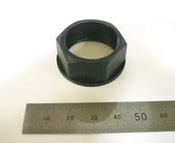 Molding examples:High strength nut for structure
Grade: U-55G
Mixing example:PA6+GF55%
*Replacement for brass material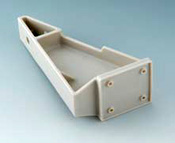 Molding examples:Support material of bathroom counter
Grade:PPG-50
Mixing example:PP+GF50%
*Replacement for stainless processed products
〒103-8410
11-2, Nihonbashi Honcho 4-chome, Chuo-ku, Tokyo, 103-8410
1st Sales Division CM team(Tokyo)
TEL:03-3663-0377
FAX:03-3661-8933
〒541-8513
3-7, Fushimimachi 3-chome, Chuo-ku, Osaka, 541-8513
1st Sales Division CM team(Osaka)
TEL : 06-6202-2269
FAX : 06-6222-6796