Supercritical fluid technology
Supercritical fluid technology - KISCO's activities
We carry out our core technology development using supercritical carbon dioxide and engage in its production and sales in order to meet the needs of our customers.
KISCO is involved in developing the following technologies.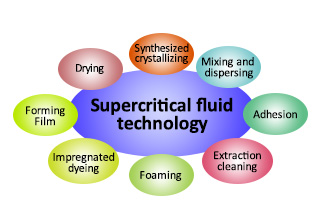 With supercritical fluid

Crystallization of medicine

(make into nanoparticles, nanomedicine)

Compound of polymer particle

(acrylic polymer, etc.)

Adhesion of polymer particles, forming

(molding of porous resin, weight reduction of tablets)

Drying of microstructure without a damage

(semiconductor/MEMS devices)

Drying of microporous without a damage

(aerogel, high performance insulating material, etc.)

Dry of particulates

(food/medicine additive, carbon material, various metals, etc.)

Cleaning of micro-component

(nanomold, needle (pore), forming binder, etc.)

Functional component impregnation

(plating, dyeing, catalyst, pigment, etc.)

By engaging in fundamental technology development in the above fields, we are able to expand our business into a variety of markets such as medical supplies, cosmetics, food, electrical device, and environment/energy.
Research and development of supercritical fluid technology
KISCO constructed an in-house supercritical device and holds various types of chambers (chamber for powder, chamber for 300mm wafer, small chamber with windows, etc.). Using such, we can carry out independent technology development on our own and also such that meets the needs of our customers.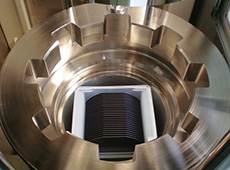 Automatic and speedy switch batch type chamber
Technology of drying (particulate, microporous, wafer)

Reduce the processing time significantly – reduce of CO2 consumption significantly
Batch processing
Reduce the production of high pressure gas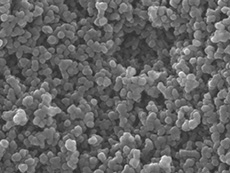 Particulate processing
Medical nanoparticle technology

Adjust particles below 100nm
Equality of grain size
No drying process nor flocculation needed
Supercritical processing order / Demonstration services
We take orders based on customer requirements. We use original in-house device/technology and undertake our individual orders.
We also carry out experimental demonstrations for bench-scale testing. Please contact us if you are interested in testing the possibilities of supercritical fluid technology.
〒103-8410
11-2, Nihonbashi Honcho 4-chome, Chuo-ku, Tokyo, 103-8410
3rd Sales Division Semiconductor Material Department Development Section
TEL:03-3663-0276
FAX:03-3661-0037