Original standing pouch
KISCO offers various standing pouch products including our original standing pouch to meet your needs.
Primary usage
Food, pet food, cosmetics, etc.
Features
Spout pack
An original standing pouch with self sealing functionality. Two series (narrow opening and wide opening) and around 60 types to choose from, to fit the viscosity and usage of the item to be stored.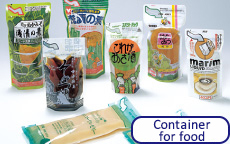 The inside of the pouch does not spill over easily even when it falls over and it can be use as a refillable container.
The pouring lip allows less air to enter the pouch, enabling the content stored inside to be preserved better.
---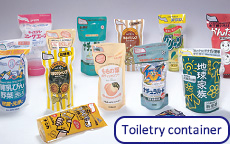 By changing the material of the film, additional features such as retort sterilization, oxygen/vapor prevention, and light shielding can be configured.
The pouch can be sealed by itself so there is no need for a cap.
---

KR pack (Patented)
We developed an original standing pouch for liquid content to be easily refillable in a bottle.
The pouring lip can be easily inserted into a bottle or container.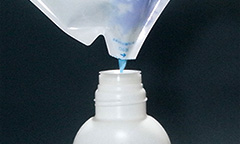 The pouring lip of the pouch does not seal/close.
It can be easily inserted into a bottle/container, allowing refilling to be stable.
The pouch does not come with a cap or any accessories - it is environmentally friendly.
〒103-8410
11-2, Nihonbashi Honcho 4-chome, Chuo-ku, Tokyo, 103-8410
Packaging Department Third Division Tokyo Distribution Section
TEL:03-3663-0371
FAX:03-3661-2677
〒541-8513
3-7, Fushimimachi 3-chome, Chuo-ku, Osaka, 541-8513
Packaging Department Third DivisionOsaka Distribution Section
TEL : 06-6202-2263
FAX : 06-6222-5061