Adhesive
Coordination ~From supplying of raw material to processing support~

We supply raw materials of various adhesives, base materials of tapes/films and liners. We also handle finished products of adhesives, tapes and films. In addition to supplying raw materials and products, we can introduce processing companies to customers who require a specific form of processing, for instance adhesives or slit processing.
Diverse product lineup

With our extensive product lineup (domestic and foreign), we are able to select and suggest products to our customers according to their needs. In recent years, we have concentrated in the optics field involving smartphones and tablets. As the supply for adhesive tapes, films, and adhesives is growing rapidly, we are focused on providing specially developed material (refractive adjustable material, flexibility adding material, antifouling material, antistatic material, etc.) for the usage of optical products.
Customer market
Automotive market
(Example of usage: masking tape/film, interior/exterior components fixing tape/adhesive, interior/exterior films, window films, etc.)
Building material market
(Example of usage: masking tape/film, wall papers, widow film, packing tape, marking film, etc.)
Electronic display market
(Example of usage: high transparent adhesive tape, optical photoelastic resin, electric conductive tape/film, optic films, etc.))
Medical market
(Example of usage: medical tape, adhesive plaster, sports tape, etc.)
Main products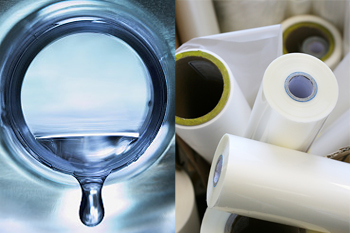 Various monomer, oligomer, polymer:

Acrylic group:Acrylic acid and acrylic acid ester, (meth) acrylate monomer / oligomer, urethane acrylate, acrylic emulsion, acrylic adhesive, etc.
Urethane group:Isocyanate, various polyol, etc.
Epoxy group:Epoxy resin, etc. Silicone group:Silicone adhesive, silicone oligomer, silicone oil, silicone resin, etc.
Other:Polyvinyl alcohol, fluorocarbon resin, alkyd resin, etc.

Solvent

Ketone group, alcohol group, ester group, aromatic group, aliphatic group, etc.

Additives

Polymerization initiator (peroxide group, azo group, radical group / cation fluorescent initiator, etc.)
Curing agent (isocyanate group, amine group, acid anhydride group, etc.)
Adhesive imparting material (petroleum resin, rosin, silane coupling agent, etc.)
Weather resistant auxiliary (ultraviolet absorbent, antioxidant, age resister, thermoplastic resin, etc.)
Inorganic filler (heat dissipating agent (silica, alumina, etc.), conductivity imparting agent (conductivity carbon, etc.), nanofiller, etc.
Organic filler (acrylic, urethane beads, etc.)
Anti-static additives (fluorine denatured ionic liquid, composite clay mineral, conductivity macromolecule, etc.)
Dispersing agent (synthetic wax group, macromolecule type (poly acrylic acid group, etc.), surface-active agent (alkyl polyamine type, etc.), inorganic type, etc.

Various substrates/films

OPP (overoxidized polypyrrole) film, CPP (cast polypropylene) film, PET (polypropylene polyethylene terephthalate) film, PE (polyethylene) film, Fluorine film, non-woven fabric, glass cloth, Polymede film, etc.

Liner

Release paper, silicone/non-silicone peelable PET liner, fluorine liner
postcode 103-8410
11-2, Nihonbashi Honcho 4-chome, Chuo-ku, Tokyo, 103-8410
2nd Sales Division Chemicals Department
Global key account team
TEL:+81-3-3663-0272
FAX:03-3661-6459