High specific gravity plastic molded product "KISCOM"
High specific gravity plastic molded product "KISCOM"
The CM team mixes metal powder and inorganic filler into resin to produce original material. We provide you with technical support ranging from material development to the evaluation of trial production.
Customer market
Housing equipment, automotive, industrial equipment, medical, daily goods
Features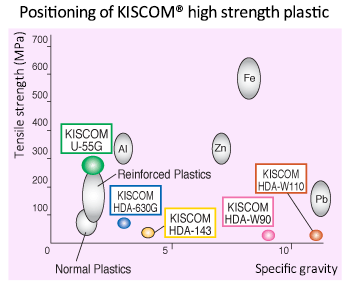 KISCOM high specific gravity plastic molded product are a good replacement for materials such as iron, stainless, lead, brass, and ceramic because the products have an extremely massive and luxurious feel. In addition, the product is quite, vibration is controlled, and X-rays are shielded.
KISCOM®
Referenc
Grade
HDA-630G
HDA-143
HDA-W110
Iron
Aluminum alloy
Zinc alloy
Lead alloy
Mixing example
PA6+SUSPowder+GF
PA6+Iron powder
PA6+Tungsten powder
S45C
 ADC10
ZDC1
Tensile strength

(MPa)

69
42
44
600
283
325
160
Flexural modulus

(Pa)

6.76
7,7
12.3
ー
ー
ー
ー
Specific gravity(-)
3
4.3
11
7.8
2.7
6.6
11.3
Product lineup
| Grade | Mixing example | Features |
| --- | --- | --- |
| HDA-143 | PA6+Iron powder | Specific gravity4.3 |
| HDA-240 | PA12+Iron powder | Low water absorption/Specific gravity4.0 |
| HDA-630G | PA6+Stainless powder | Silent effect / damping effect Specific gravity3.0 |
| HDA-W90 | PA6+Tungsten powder | Lead replacement Specific gravity9.0 |
| HDA-726 | PA6+Barium sulfate | Complying with the Food Sanitation Law / ceramic-like painting |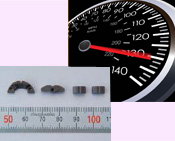 Grade:HDA-W90
Mixing example:PA6+Tungsten powde
Molding example:Meter balancer
(Weight used for a pointer to move smoothly)
*Replacement for lead processed products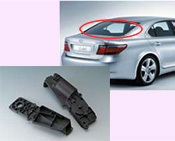 Grade:HDA-630G
Mixing example:PA6+Meter balancer+GF
Molding example:Motor cover
(Motor vibration sound is reduced.)
*Replacement for aluminum die-casting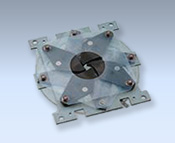 Grade:HDA-W110
Mixing example:PA6+Tungsten powder
Molding example:X ray collimator leaf
(Medical X-rays are shielded.)
*Replacement for lead processed products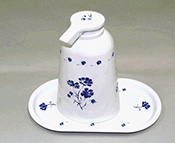 Grade:HDA-720G
Mixing example:PA6+Barium sulfate+GF
Molding example:Soap dispenser cover (recreation of ceramic texture)
*Replacement for ceramics
〒103-8410
11-2, Nihonbashi Honcho 4-chome, Chuo-ku, Tokyo, 103-8410
1st Sales Division CM team(Tokyo)
TEL:03-3663-0377
FAX:03-3661-8933
〒541-8513
3-7, Fushimimachi 3-chome, Chuo-ku, Osaka, 541-8513
1st Sales Division CM team(Osaka)
TEL : 06-6202-2269
FAX : 06-6222-6796